Visiting Lavender fields in the UK  has become a hugely popular past-time in recent years.
Some of the Lavender Farms allow visitors throughout the season, whereas others just open on certain days, keep and eye on their websites and social media for the latest information.
So if you are wondering are there any Lavender Fields near me read on to find out more.
Tips For Visiting Lavender Fields In the UK
With the English weather being so unpredictable and many of the Lavender fields being on farmland, it might be worth putting your wellies in the back of the car and ensuring you have sensible shoes on, to navigate the farm tracks.
It is becoming a very popular day out, so expect it to be pretty busy during peak season, everyone will want that perfect instagram shot with nobody in the background, therefore its advisable to arrive as soon as the Lavender fields open, and if possible on a weekday, alternatively towards closing time, but then you run the risk of running out of time.
One of Lavenders favourite visitors are bees, and although they would probably prefer to explore the Lavender, its always worth keeping an eye out for them, and be careful not to disturb their busy work, or you may risk getting stung, especially if you have younger members of the family with you.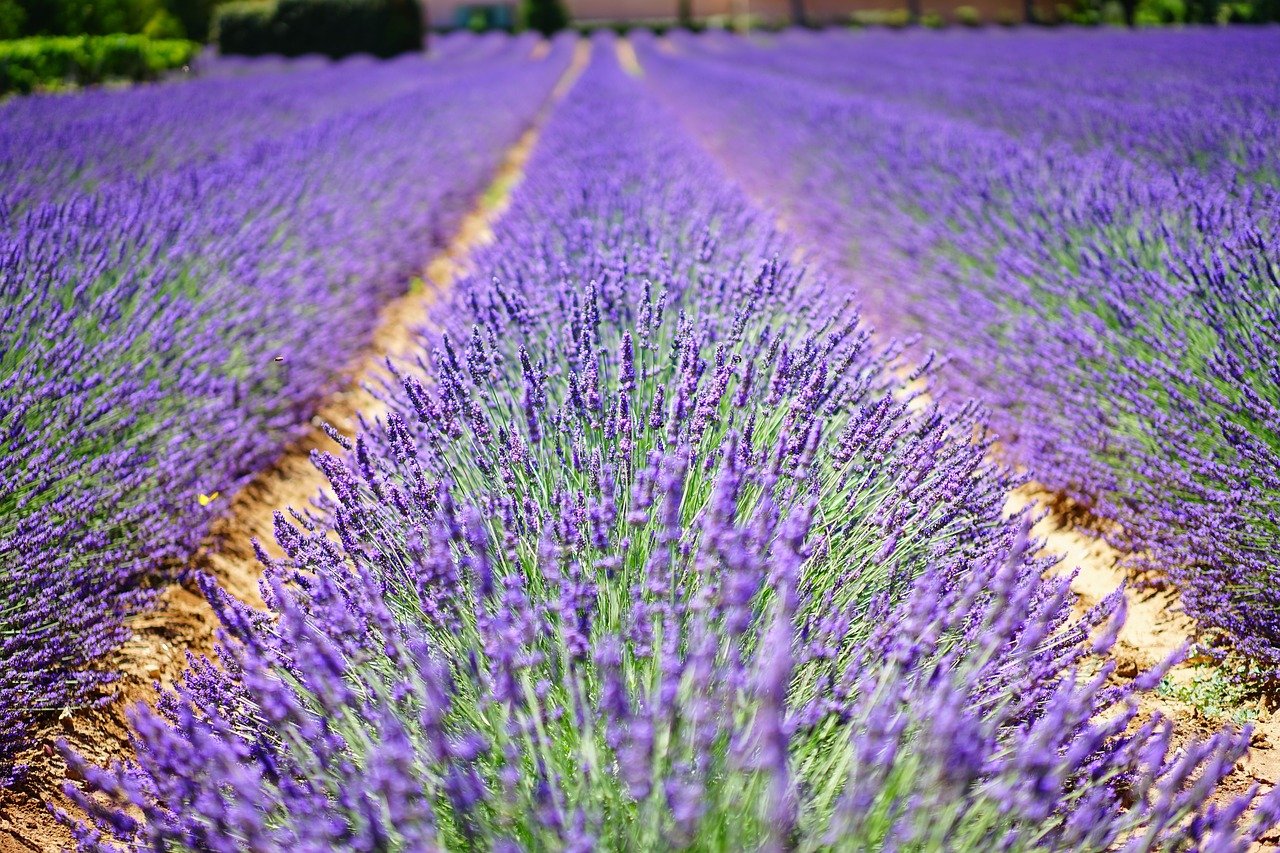 Lavender Fields in London
When you think of London, I am sure, like me you conjure up pictures of famous landmarks and heavy traffic, so you'd be surpised to learn that there are quite a few places that you can find Lavender in the Capital.
Location : Kew, Richmond, London, TW9 3AE – Nearest station Richmond
Famous for its gardens for centuries, this botanical beauty always has a stunning lavender season is always in full flow every year.
Check out Kew's Queen Gardens, the Mediterranean Garden, Dukes Garden and the Great Broad Walk Borders to get your full lavender fix.
You may also be able to spot some in the Prince of Wales Conservatory.
Location : 12 Lawn Lane, SW8 1UA. Nearest station Vauxhall
Vauxhall Park in South London is hidden away from the hustle and bustle hiding its violet sea of lavender. It is not the largest lavender field, but it offers a refreshing respite from the city,  with its beautifully scented blooms.
The lavender fields in Vauxhall Park are replaced every autumn with fresh beds. Once harvested, the bloom is sent to Carshalton lavender field where it is turned into lavender oil and sold locally on Bonnington Square and South lambert Market in order to fund the park. 
Location : Kennington Park Rd, SE11 4BE. Nearest station Oval.
You will find small but punchy lavender patches in Kennington park that have been planted there for generations.
Sitting alongside the olive trees in the Mediterranean beds and surrounding the garden's sundial you will most likely smell the lavender before you see them. 
Lavender Fields Near Me
Location : Castle Farm, Redmans Lane, Shoreham, Sevenoaks, Kent, TN14 7UB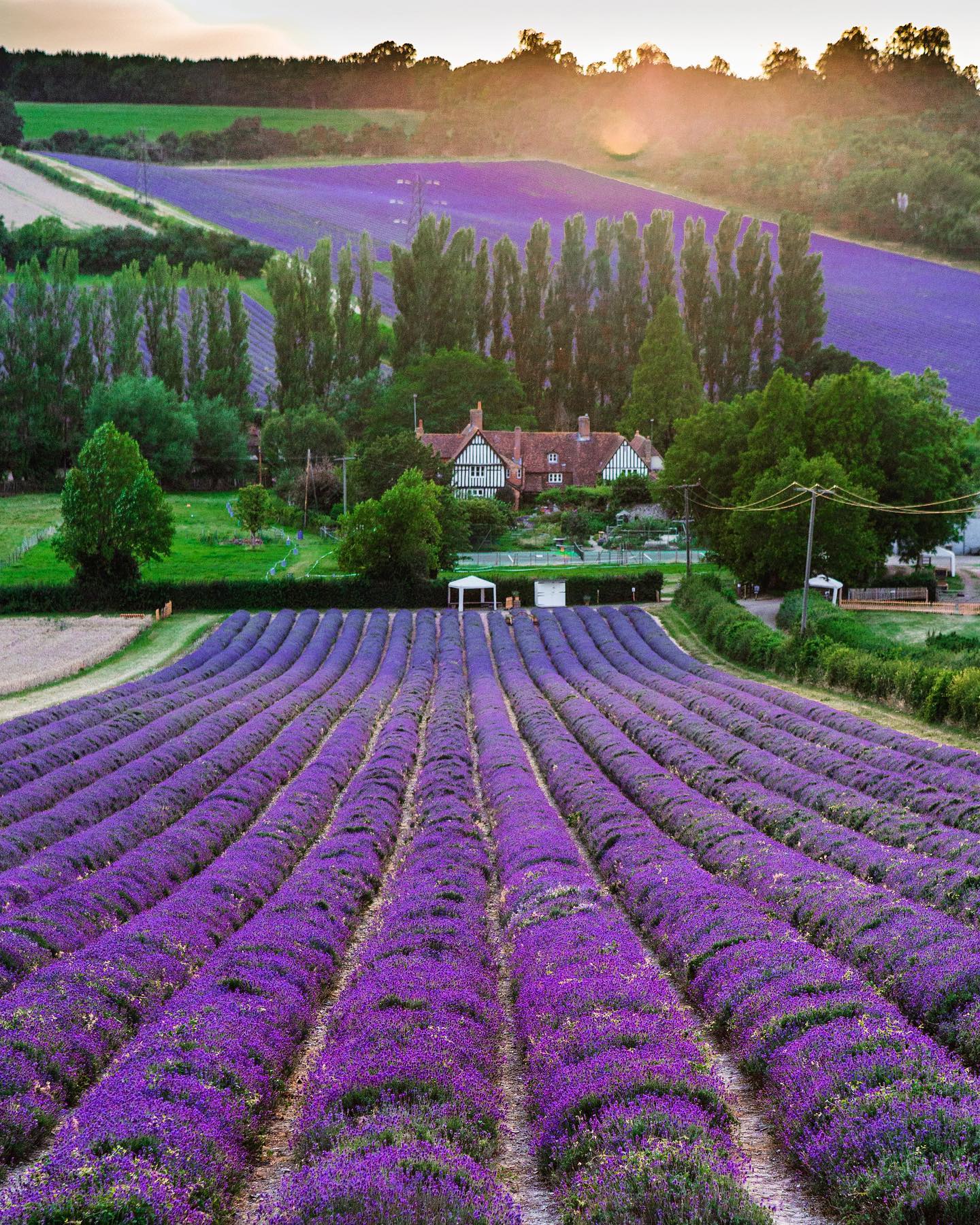 The Lavender at Castle Farm starts to bloom in late June, and is harvested for precious oil in late July.
Throughout the Lavender Season, they will once again be offering pre-booked Lavender Walks and Lavender Picnic events. Tickets for the Lavender field events will be released in mid-June ahead of the events.
LAVENDER WALKS – Enjoy a 45 minute stroll in the most iconic Lavender field. Take in the dramatic valley views from the top of the field, or get your annual Lavender Bench photo!
LAVENDER PICNICS- Enjoy 2 hours in the lovely Ladybird Lavender field with over 60,000 Lavender plants! Bring your own picnic and enjoy a memorable summers day, or evening event in a truly relaxing environment.
Location : Great Carnbargus Farm, Perranporth TR6 0JF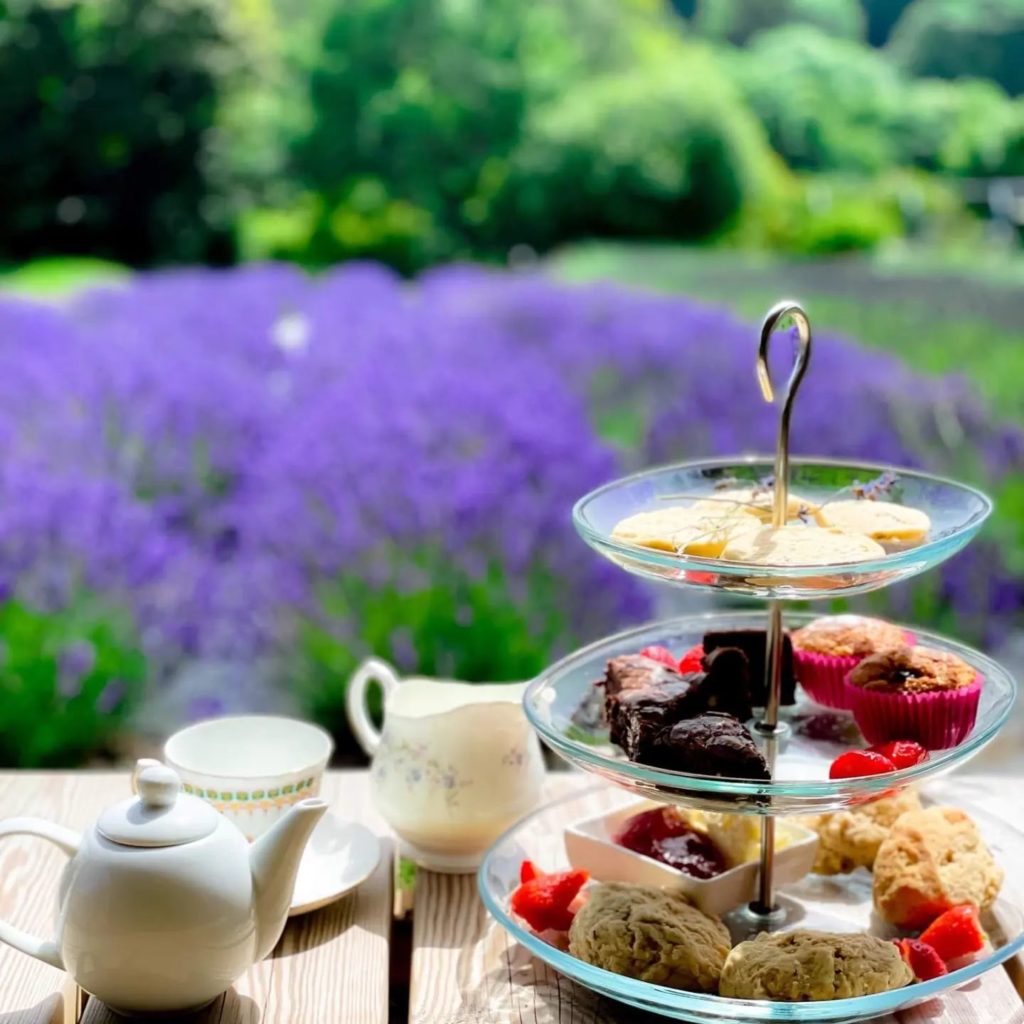 Cornish Lavender farm is open to the public from mid-June to August, offering Cornish pasty lunches, cream teas and picnics amid the fragrant blooms.
Visitors can also try their hand at cutting the lavender and operating machinery in the distillery, as well as making scented soaps, candles and crocheted lavender bags at on-site craft workshops.
There's even a lavender slime-making class.
Location : Hill Barn Farm, Snowshill, Broadway, Worcestershire WR12 7JY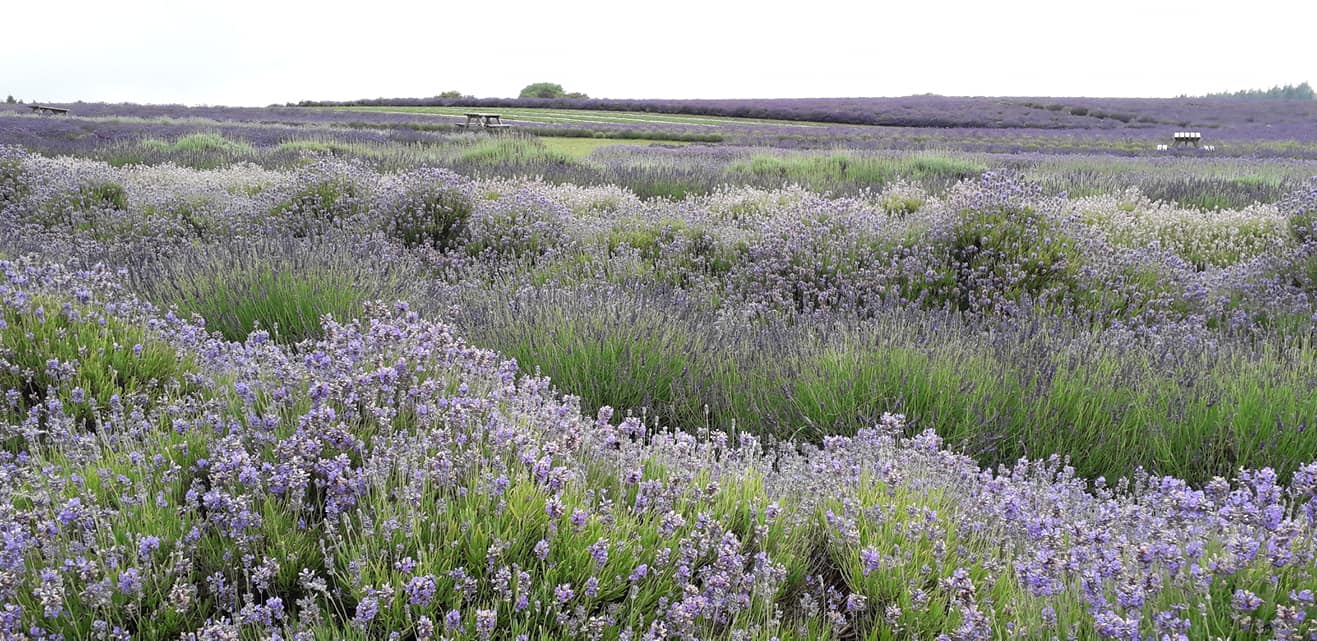 Cotswold Lavender is easy to find in the outskirts of the village of Snowshill. Not far from the National Trust Property Snowshill Manor.
Cotswold Lavender grow their Lavender as a crop – and just like any crop they have to harvest it – unfortunately when it's at its peak! Harvest usually starts during the last week of July and continues until early August.
They now have over 40 different varieties, some 140 miles of rows and over 500,000 plants in total.
Location : Cadwell Farm, Ickleford, Hitchin, Herts, SG5 3UA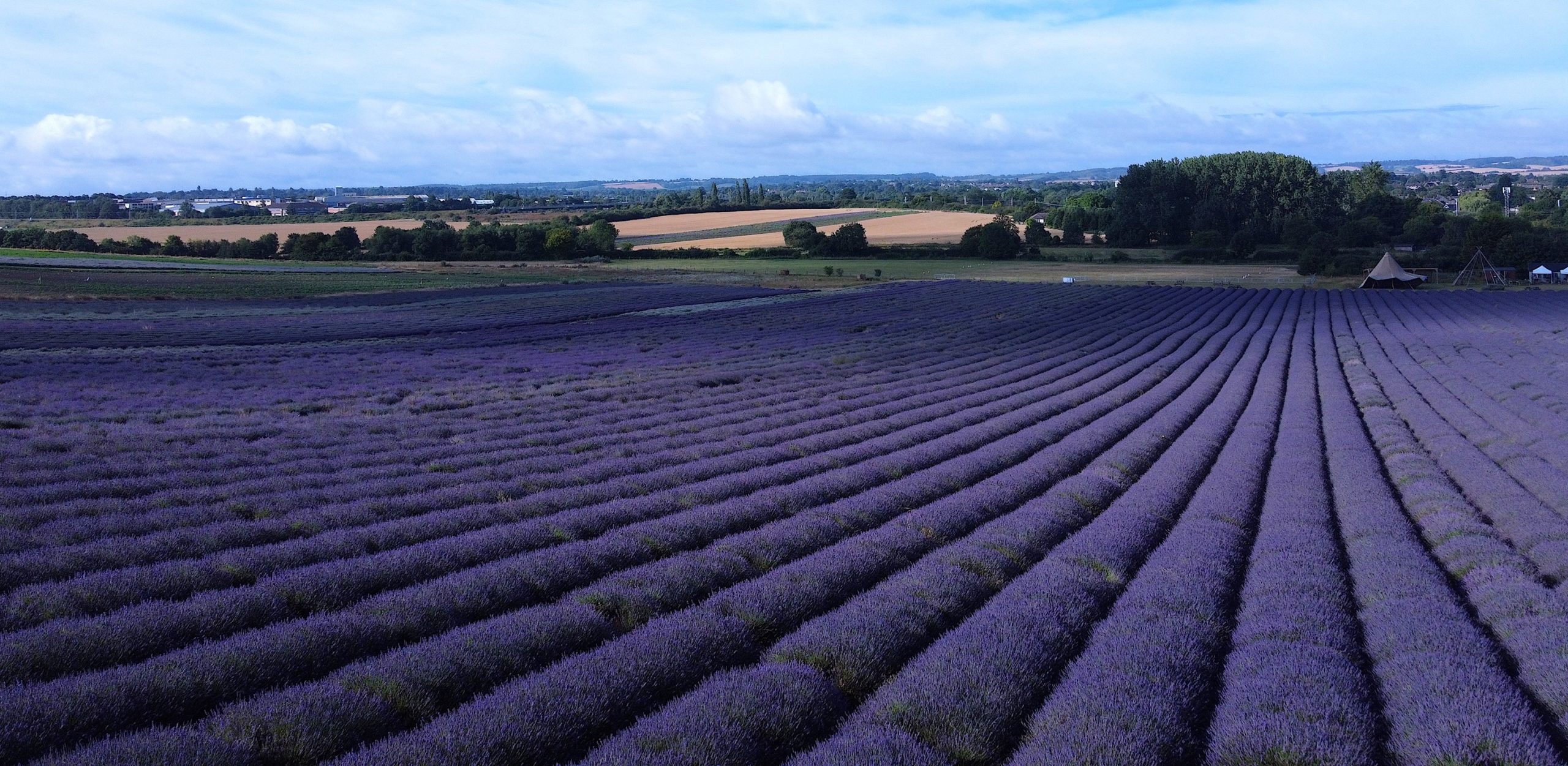 Hitchin Lavender is home to 25 miles of lavender that visitors are free to walk among (and pick).
Have lunch in the 17th-century barn or explore the farm's museum. The lavender fields will re-open in June. Tickets to visit will be released soon
Location : Hartley Park Farm Alton, Hampshire, GU34 3HP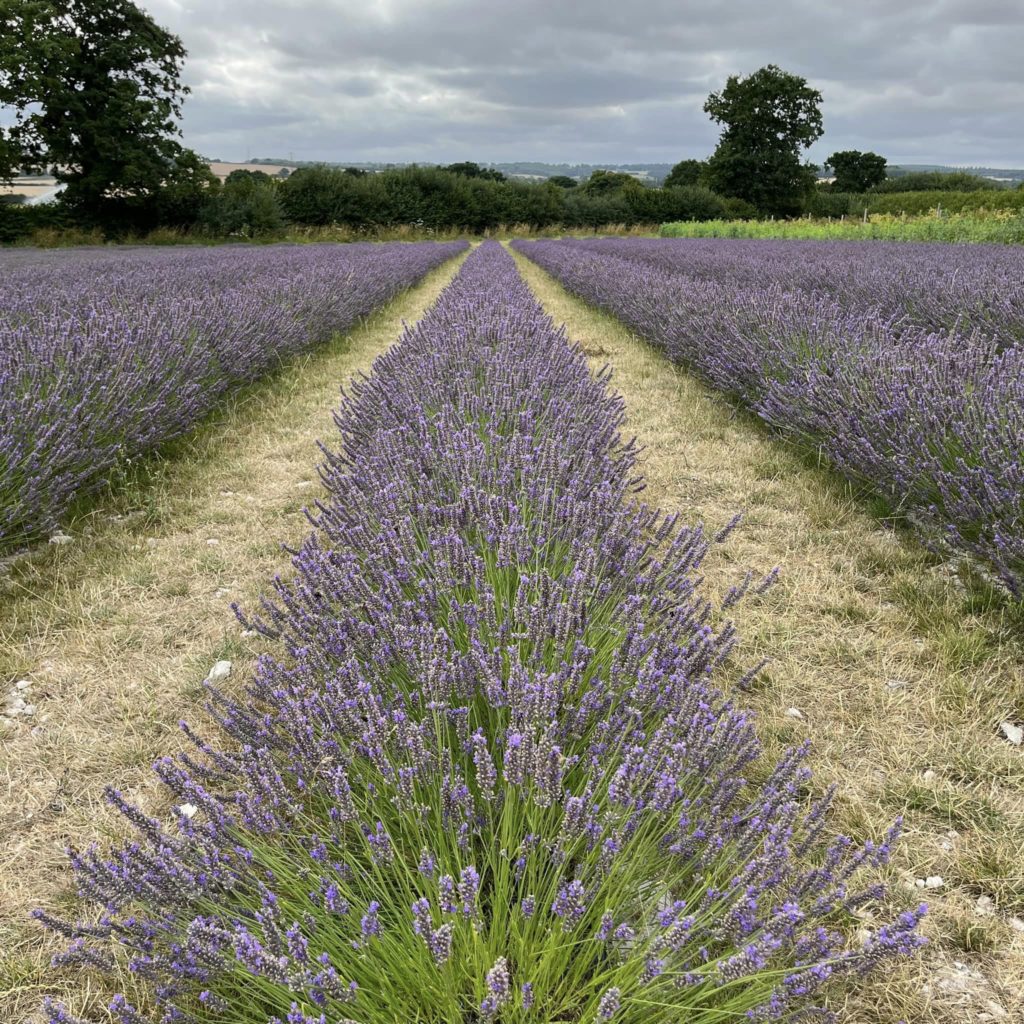 Welcome to The Lavender Fields, at Hartley Park Farm, in the heart of the Hampshire countryside.
Fourth generation farmers, they value the local landscape, and having introduced English lavender to the farm back in 1999, the field is now a local landmark.
Set against the ancient trees of the Selborne Hanger, the vibrant field of English lavender perfectly compliments the dense, dark woodland.
The shop is open all year round, selling a wide range of products, including their very own body care, home and giftware ranges, which are created using the lavender that is grown on the farm.
Location : Lordington Farm, Chichester PO18 9DX
Located in Sussex's South Downs, this former dairy farm grows four acres of organic lavender, used to produce toiletries and aromatherapy products.
For one week only every year, Lordington Lavender farm opens its lavender fields to the public. Wander through the perfumed foliage – it's all natural, with the pesticide-free crops drawing tons of wildlife including bees, butterflies and birds to the farm.
Exit through the gift shop to grab some lavender goodies (soaps, oils, sprays) on your way out.
Location : 2 Redshill Farm Cottages, Gifford, EH41 4JN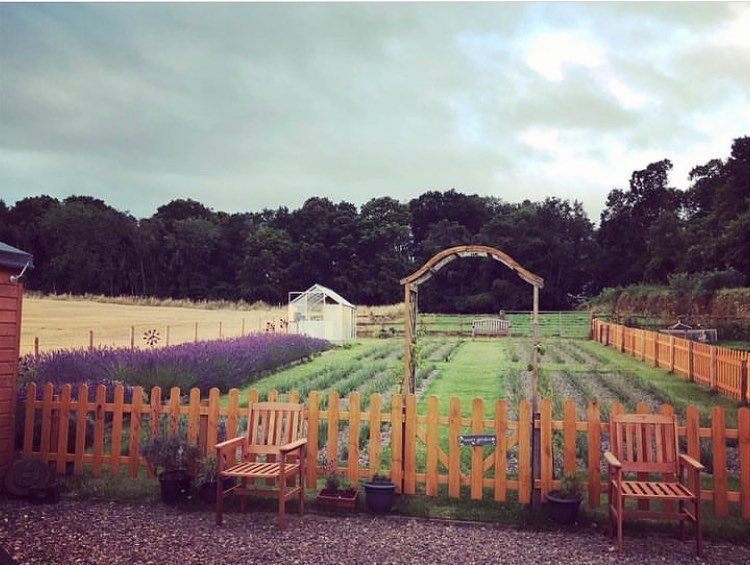 Lothian Lavender family farm is below the Lammermuir Hills in East Lothian, this small but picturesque lavender plot is harvested to produce a range of products including hand cream, soap and pillow mist – all of which are handcrafted in the workshop.
The field is open to visitors on special open days throughout the flowering season.
Location : 1 Carshalton Rd, Banstead SM7 3JA
A family run 25 acre Organic Lavender Farm in Surrey, less than 15 miles from London. The farm is open May-Sep. The Nursery is open Mon – Sun 9am-6pm
Mayfield lavender farm in Banstead will open in June and its expected that the flowers will bloom from mid/end of June to the mid/end of August, weather dependent.
Visitors are free to roam between the rows to explore and take photos – look out for the red London telephone box plonked inexplicably in the middle of the field like Doctor Who's TARDIS.
Taking a picnic isn't allowed, but there is a café on site that serves lavender inspired treats (including a lavender cream tea) al fresco.
Location : Caley Mill, Lynn Road, Heacham, PE31 7JE.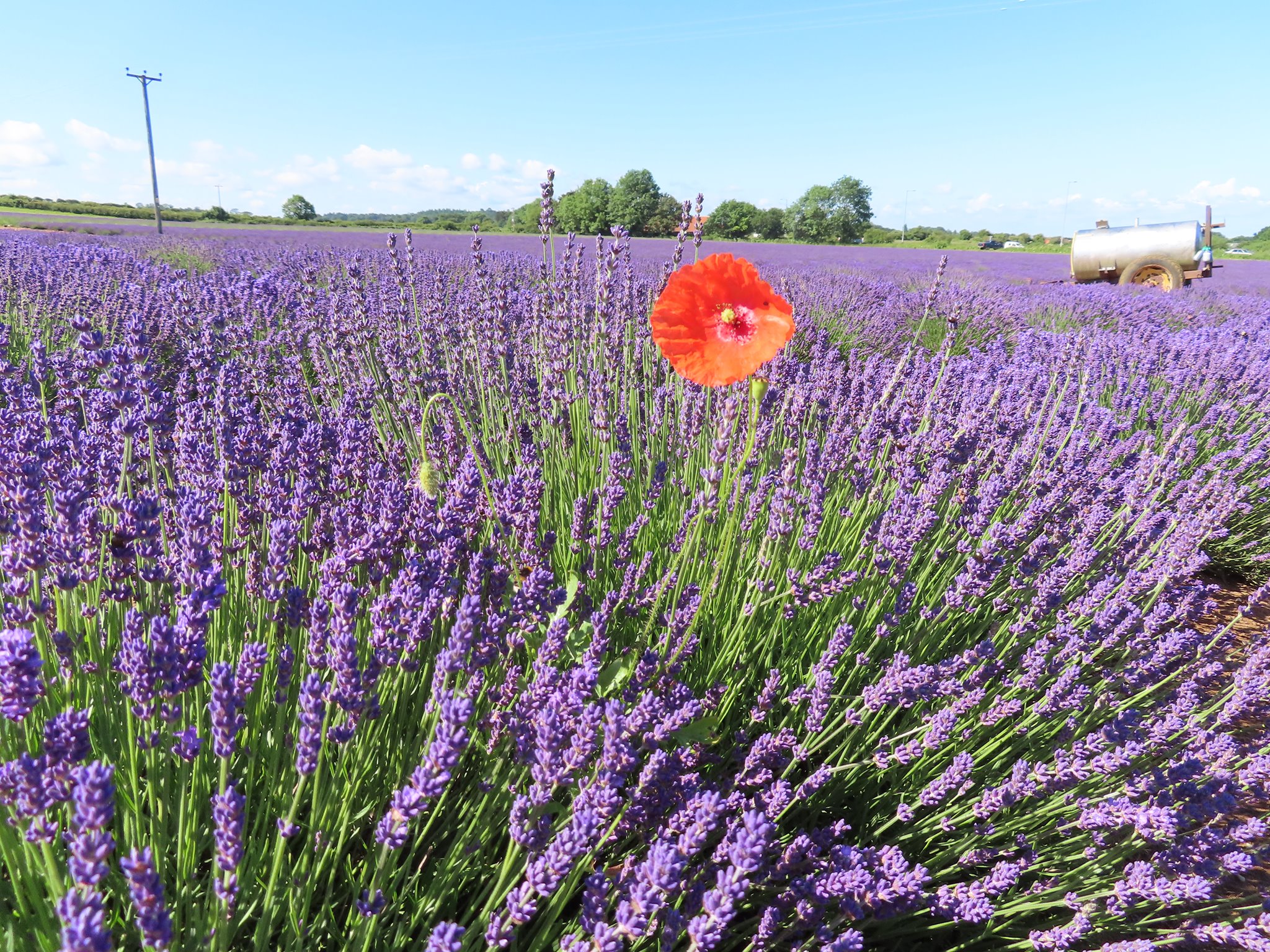 Founded in 1932, Norfolk Lavender is England's premier lavender farm, renowned worldwide, it has nearly 100 acres of lavender under cultivation.
Norfolk Lavender is at the heart of the West Coast of Norfolk. You'll find some of Britain's most attractive countryside, a glorious coastline, and a rich, vibrant heritage.
Norfolk Lavender Tours – They are open all year round, with the summer season being the most vibrant when all of the lavenders burst into flower and the air is full of the relaxing fragrance.
The lavender distillery can be viewed by the public and visitors can have a guide to show them about the distillation of lavender flowers to make oil for Norfolk Lavender's world famous perfume and toiletry range.
Guided tours operate for most of the summer months, please call to check times and prices. There is a mini lavender field on site that is free to visit.
Location : Tarhill Farm, Kinross KY13 9EZ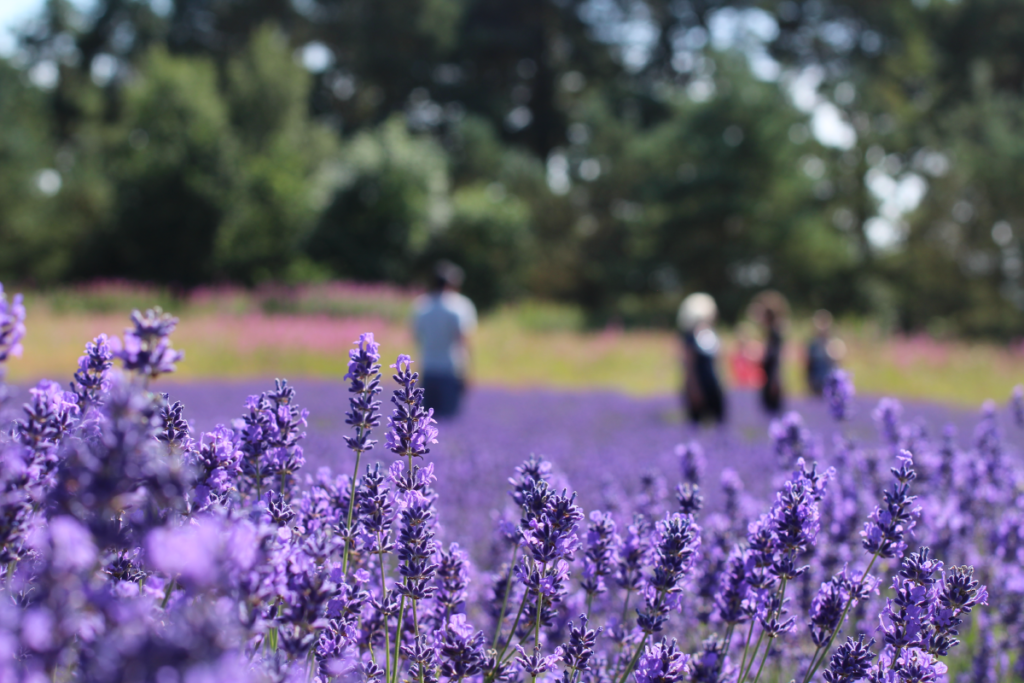 The Scottish Lavender farm can be found on the banks of Scotland's Loch Leven National Nature Reserve.
It grows seven varieties of lavender alongside mint, rosemary, chamomile, calendula and a bunch of medicinal herbs.
The lavender farm takes a sustainable approach to its work, harvesting all the lavender by hand, avoiding pesticides and planting wildlife corridors to support local species.
Location : Somerset Lavender, Horsepond Farm, Faulkland, Somerset, BA3 5WA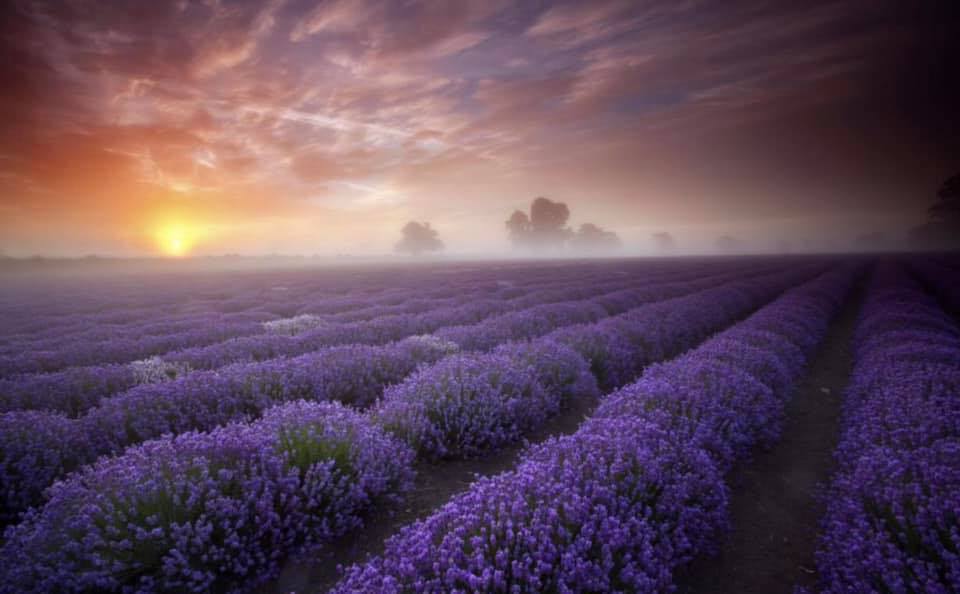 Wander at will through the Lavender Garden where they trial over 20 varieties of Lavender. 
In the Lavender Field, see over five acres of Lavender, walk through the field and absorb the sight of more than 50,000 Lavender plants with bees humming, collecting pollen to make the honey.
The healing garden is packed full of useful herbs from the commonplace to more unusual varieties: Thyme and Lemon Balm, Arnica and Echinacea to name only a few. Sit on the camomile seat and take in the wonderful scent.
The Lavender Garden was planted in 2003 and the five-acre field in 2004. This year they will be planting another 5 acres of lavender, visit in the summer to find out more.
Open from Open May through September, Wednesday – Sunday 10AM – 5PM
Location : Cefnperfedd Uchaf, Maesmynis, Builth Wells, Powys, Wales LD2 3HU
Located high in the hills just north of the Brecon Beacons, Cefnperfedd Uchaf Farm became the first lavender farm in Wales when its owners planted a solitary field of the purple stuff in 2003.
The lavender oil produced on the 2.5-acre plot is used exclusively in the farm's artisan chocolate and range of luxury toiletries and skincare products.
Visitors are welcomed year round, with distillery tours and a café open during summer.
Location : Terrington, York, YO60 6PB.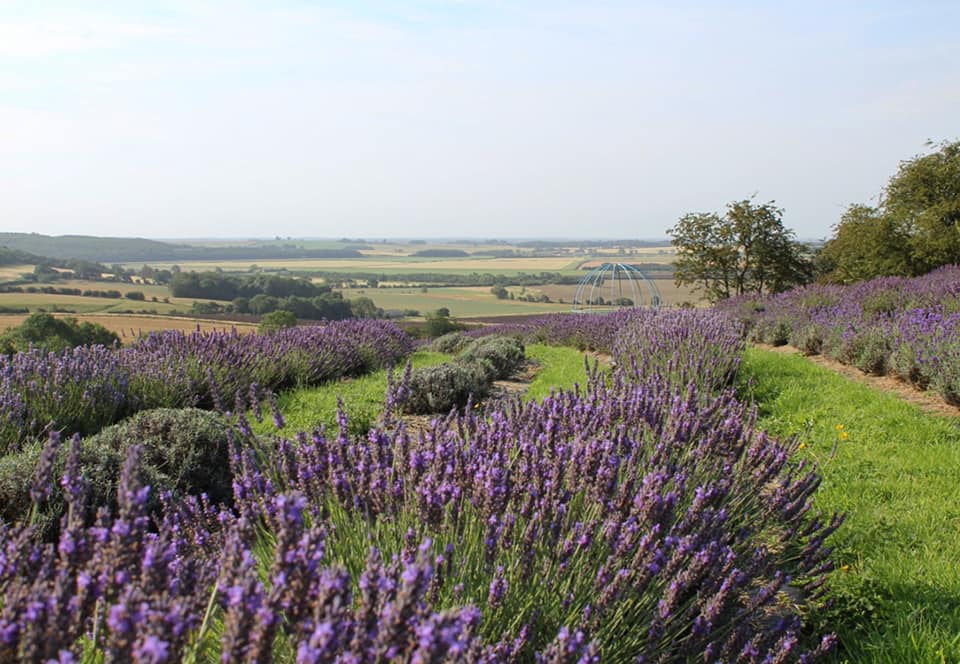 Yorkshire's original family-run lavender farm, Lavender Gardens and Specialist Plant Nursery set in a spectacular hillside farm of nearly 60 acres, within the Howardian Hills Area of Outstanding Natural Beauty.
With hundreds of different lavender and herbs for sale, EJ's Tea Room to enjoy delicious food, Gift Shop selling their own lavender products using the oil distilled from the lavender grown on the farm, award-winning lavender gardens and sculpture park.
FAQs
When Are Lavender Fields in Bloom ?
Here in the UK Lavender will usually bloom between mid-June and mid-August but it may be weather dependent and each farm will have their own schedule. During a typical British summer, the lavender should be at its best throughout July, it may be worth checking out the Lavender Fields website and social media for recent photos to see how the Lavender is looking.
Where are Lavender Fields Located ?
The Lavender Fields listed are located in Banstead, York, Heacham, Hitchin, Sevenoaks, Worcestershire, Somerset, Chichester and London, these are the largest and most popular Lavender Fields within the UK, with some of them including Plant Centres, Cafes and Children's Play areas, so if you are looking for a lavender farm near you, then one of these may be suitable.
Looking for other flowers, check out Snowdrops and Bluebells