Daffodils symbolise the start of spring, along with baby lambs and the lighter mornings and longer days.
If you are looking for somewhere to see a stunning carpet of Yellow, check out these stunning daffodil walks to explore.
Wondering if there are any daffodil walks near me, read on to find your local Daffodil Walk choices
Where Can I Find A Daffodil Walk Near Me
Acorn Bank
Location : Temple Sowerby, near Penrith, Cumbria, CA10 1SP
Discover the beautiful drifts of daffodils in the woods around Acorn Bank; you'll soon see why Dorothy Una Ratcliffe, Acorn Bank's former owner, was called the 'lady of a million daffodils'.
The display usually starts with the early 'Lent lilies', a native variety that blooms in the woodlands, followed by the flowering of many heritage varieties in the orchards and on the bank above Crowdundle Beck, including the fragrant white 'Pheasants Eye narcissus'.
For further information CLICK HERE
Anglesey Abbey
Location : Quy Road, Lode, Cambridge, Cambridgeshire, CB25 9EJ
The gardens at Anglesey Abbey are always well worth a visit, but in spring they really come to life. With swathes of daffodils popping up all over the 114 acre estate, it's the perfect spot for a stroll.
For further information CLICK HERE
Antony Daffodils
Location : Torpoint, Cornwall, PL11 2QA
The Repton designed landscape at Antony is adorned with daffodils come spring. Sweeping views look out to the river Lynher and a formal garden full of surprises plays host to a multitude of blooms.
For further information CLICK HERE
Arnside Daffodils
Location : Cumbria/Lancashire
Morecambe Bay in spring sees the creeks, bays and inlets awash with the bold trumpets of native narcissus. Extensive clumps and strands dapple the ash and hazel woods above the low silvery cliffs; head to Beachwood and Park Point on good paths from Arnside's estuary-side prom.
For further information CLICK HERE
Barrington Court Daffodils
Location : Barrington, near Ilminster, Somerset, TA19 0NQ
Barrington Court's spring welcome begins with the dense clumps of sunshine-yellow daffodils that line the avenue and pepper the orchards.
For further information CLICK HERE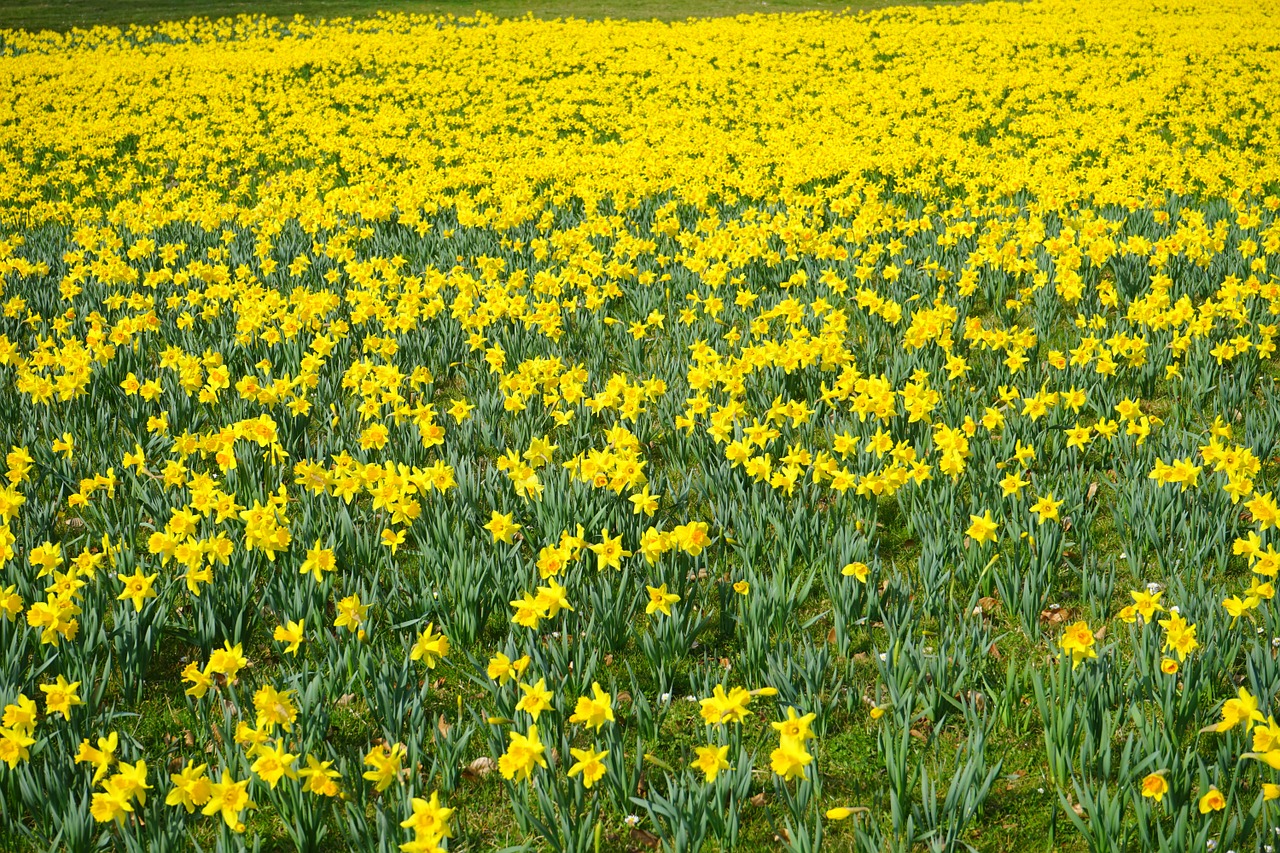 Basildon Park, Berkshire
Location : Lower Basildon, Reading, Berkshire, RG8 9NR
Daffodils are the first sign that spring is starting. Look out for these cheery plants appearing throughout the 400 acres of historic parkland and gardens of this 1950s home.
For further information CLICK HERE
Beningbrough
Location : Beningbrough, York, North Yorkshire, YO30 1DD
Stretch your legs on a spring stroll with eight acres of formal gardens and a working walled kitchen garden to wander through. Look out for signs of spring as the bulbs start to pop up in the borders, including 300,000 snowdrops and daffodils along the south ha-ha walk.
For further information CLICK HERE
Blickling Estate
Location : Blickling Estate, Aylsham, Norfolk, NR11 6NF
Visit Blickling this spring to see the entire garden come alive with a mass of colour and fragrance. With daffodil lined avenues brimming with over 100,000 daffodils this is definitely one of the top spots to see these golden flowers.
For further information CLICK HERE
Butley Daffodils
Location : Suffolk
Fringed by Rendlesham Forest's fir plantations, Butley has a fine display of wildflowers, and is a delight to explore in April. The priory woods shine with daffodils, then bluebells a little later. Nearby is Staverton Thicks, an ancient woodland with some of Europe's oldest trees.
For further information CLICK HERE
Chartwell, Kent
Location : Mapleton Road, Westerham, Kent, TN16 1PS
The 15,000 daffodil bulbs start to bloom from early spring at Chartwell, once the home of Prime Minister Winston Churchill. See what else the colourful spring garden has in store.
For further information CLICK HERE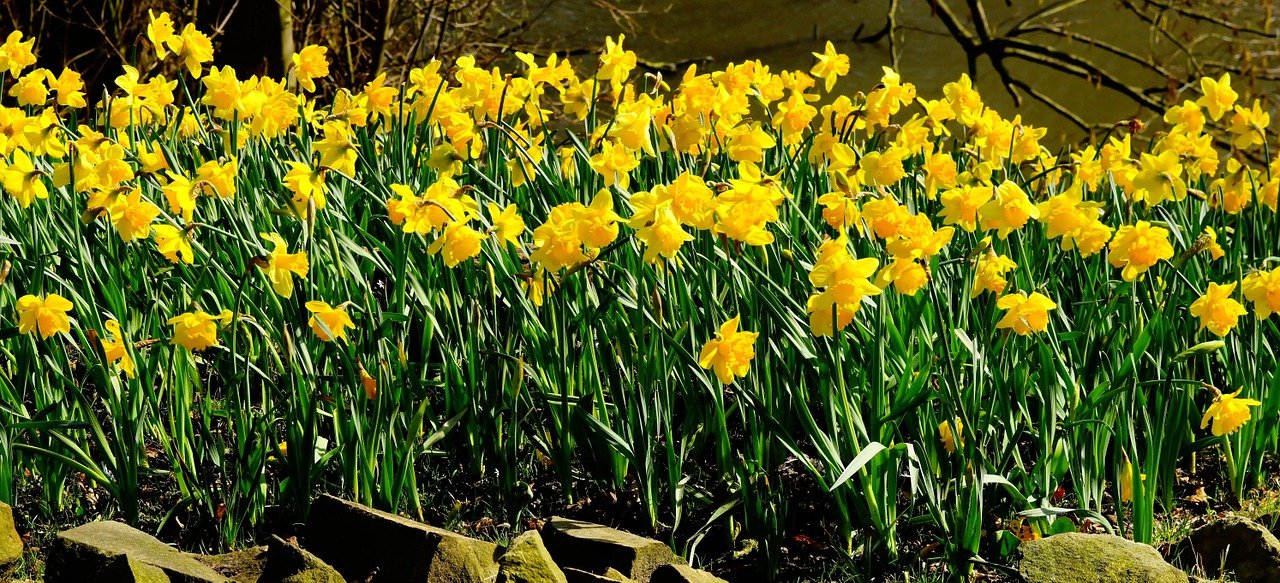 Cotehele Daffodils
Location : St Dominick, near Saltash, Cornwall, PL12 6TA
Spring is a dazzling time to explore Cotehele as the garden and countryside fill with sunny daffodils from February to May. Visit between 18 – 27 March to see the dazzling collection at its peak.
For further information CLICK HERE
Coughton Court
Location : Alcester, Warwickshire, B49 5JA
Come and explore Coughton's spring garden full to the brim with thousands of daffodils.
Come and see over 2,000 daffodils from 20 of Dr Tom's varieties such as 'Class Act', 'Star Wish', 'White Tie' and 'Spring Tonic'.
For further information CLICK HERE
Croome Daffodils
Location : near High Green, Worcester, Worcestershire, WR8 9DW
Enjoy the colours as the daffodils burst into life on this Worcstershire estate. Swathes of cheery daffodils and forget-me-nots greet you and brighten the walk along the Home Shrubbery near the Rotunda.
For further information CLICK HERE
Daffodil Way
Location : Gloucestershire
There is really only one time in the year to get the most from this walk and that is March and early April when the daffodils are in bloom. Starting at Dymock the route passes through a patch of wild Gloucestershire known as the 'Golden Triangle', named for the famous carpets of wild daffodils.
For further information CLICK HERE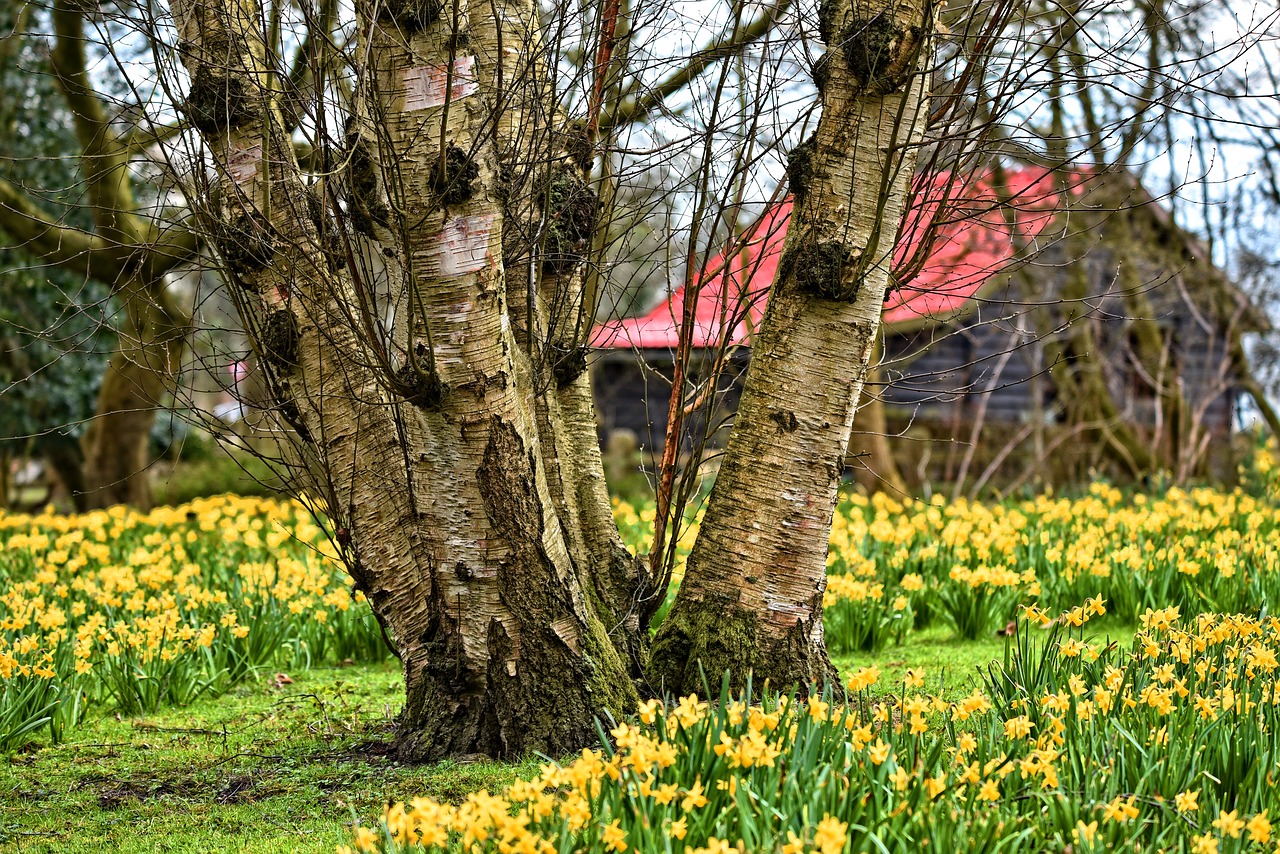 Dora's Field, Ambleside
Location : near Windermere, Cumbria
Just down the road from Allan Bank is Dora's Field, a semi-open woodland known for its displays of daffodils, which was once owned by William Wordsworth. When Wordsworth's daughter Dora died of tuberculosis, he and his wife planted hundreds of daffodil bulbs in her memory, and they still grow there to this day. While away half an hour with a relaxing wander around Dora's Field on a warm spring day.
For further information CLICK HERE
Dunham Massey, Cheshire
Location : Altrincham, Greater Manchester, WA14 4SJ
As winter turns to spring, enjoy the sunny shades of over 70 varieties of daffodil at Dunham Massey, including the golden-yellow dwarf daffodils, Narcissus 'Tête-à-Tête', that bloom in the Winter Garden. You'll also find around 50,000 colourful dwarf Iris and a sea of bluebells beneath the towering oak trees.
For further information CLICK HERE
Dyrham Park Daffodils
Location : Dyrham, near Bath, South Gloucestershire, SN14 8HY
Daffodils are abundant at Dyrham during March and April, with a glorious display throughout the garden and orchard.
For further information CLICK HERE
Farndale Daffodil Walk
Location : North York Moors
Enjoy a classic spring walk in the so-called 'Daffodil Dale' to see Farndale's glorious wild daffodils. It's a straightforward 3½-mile linear route alongside the enchanting River Dove, from Low Mill to Church Houses and back, though there is an alternative return route that climbs through farm fields for some lovely valley views. Depending on the weather, the daffodils are usually out between mid-March and mid-April, but this is a charming walk at any time of year.
For further information CLICK HERE
Felbrigg Hall
Location : Felbrigg, Norwich, Norfolk, NR11 8PP
A host of golden daffodils can be seen carpeting the lawn in front of the Hall at Felbrigg, as spring gets underway. What other signs of spring will you discover?
For further information CLICK HERE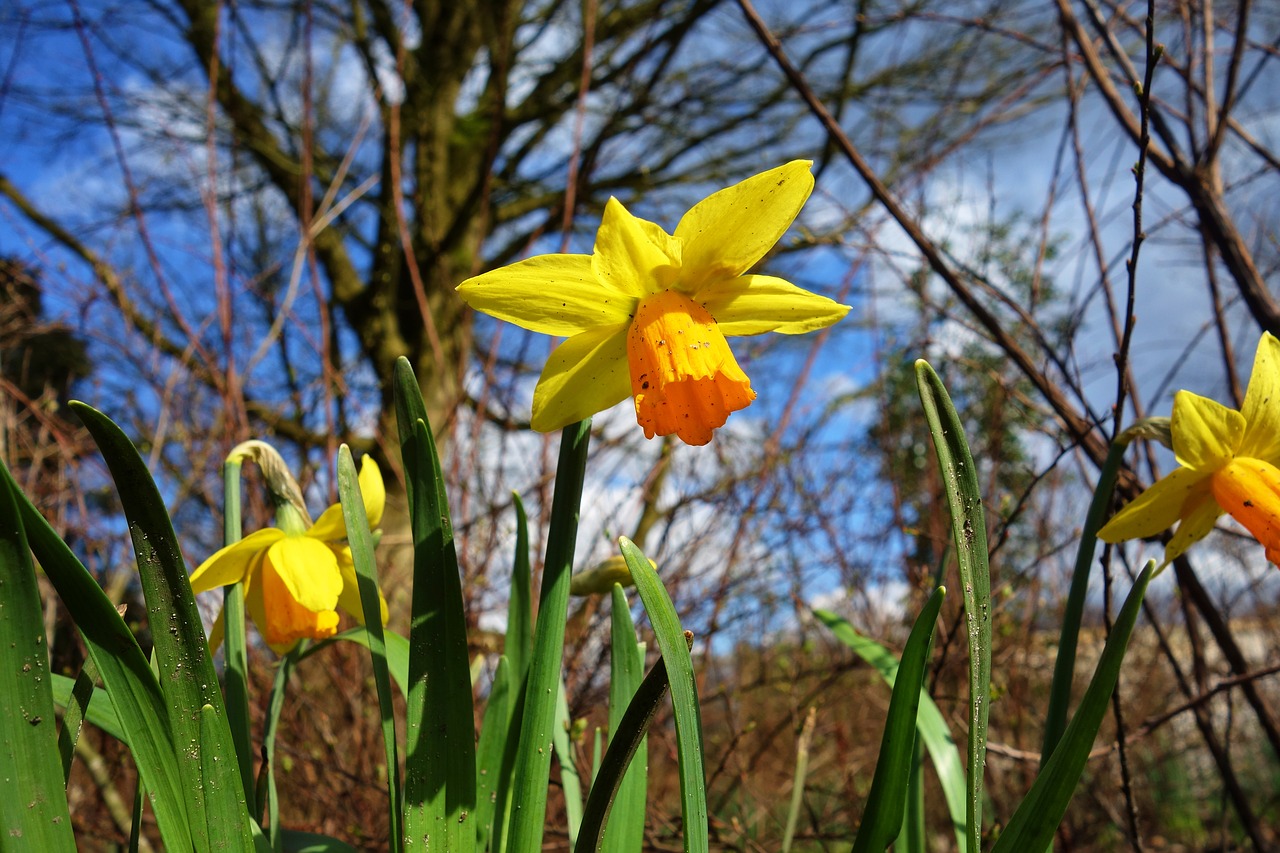 Fountains Abbey, Yorkshire
Location : Fountains, Ripon, North Yorkshire, HG4 3DY
With daffodils blooming along the river banks, fresh new buds breaking out on the trees and the birds singing away spring has reached Fountains Abbey and Studley Royal. There are 20,000 bulbs in the area around the abbey, and the riverbanks of the Skell will be lit up and glowing gold this spring
For further information CLICK HERE
Greenway Daffodils
Location : Greenway Road, Galmpton, near Brixham, Devon, TQ5 0ES
Cheerful spring flowers, the golden daffodil can be spotted in the garden at Greenway from February. They stretch all the way to the furthest reaches of the woodland garden, but a great place to see them is in front of the house, where the warm sunshine trumpets bloom across the lawn amongst snowdrops and the river can be glimpsed through the trees
For further information CLICK HERE
Hardwick's Daffodils
Location : Doe Lea, Chesterfield, Derbyshire, S44 5QJ
The gardens of Elizabethan Hardwick play host to swathes of yellow daffodils. The zingy yellow bursts of daffodils, planted by school children on their visits over the years, replace the multi-coloured drooping heads of winter-flowering hellebores, transforming the winter border.
For further information CLICK HERE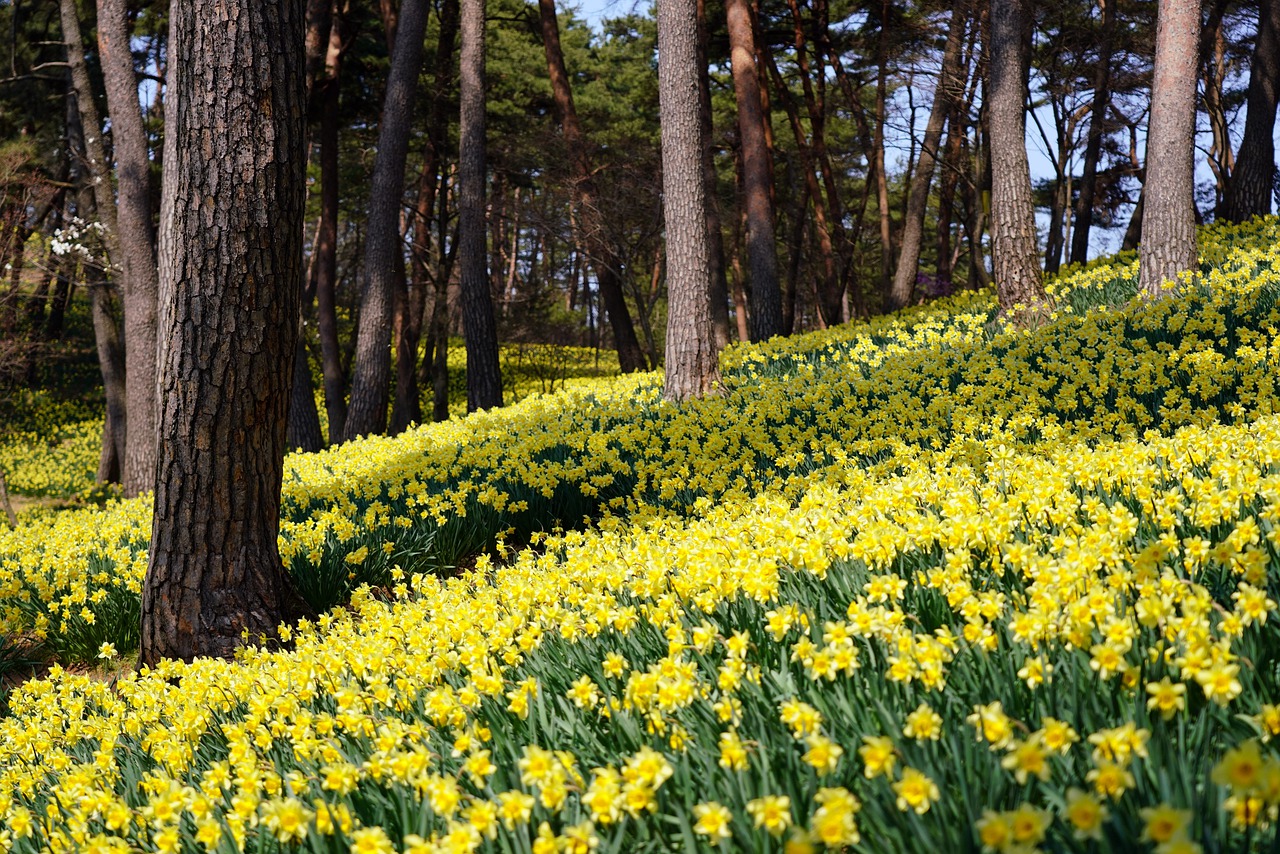 Ickworth
Location : The Rotunda, Horringer, Bury St Edmunds, Suffolk, IP29 5QE
Ickworth Spring at Ickworth welcomes swathes of gold to the estate as you begin to see masses of heritage daffodils popping up throughout the pleasure grounds. Will they bring a smile to your face?
For further information CLICK HERE
Ightham Mote, Kent
Location : Mote Road, Ivy Hatch, Sevenoaks, Kent, TN15 0NT
The arrival of spring is always a welcome sight at Ightham Mote with swathes of yellow and white blooms across the orchard and on the banks and borders of the gardens.
For further information CLICK HERE
Isles of Scilly Daffodils
Location : Isle of Scilly
Isle of Scilly is well known for their production of daffodils and Narcissi. But not all of these fabulous flowers end up as florists' bundles; countless escapee blooms appear beside the myriad paths that hug the shorelines and crisscross the tiny islands, most notably St Martin's and Tresco.
For further information CLICK HERE
Lacock Daffodils
Location : Lacock, near Chippenham, Wiltshire, SN15 2LG
Lacock Abbey's beautiful grounds are a place to relax, explore and reconnect with nature, friends and family. In the romantic Woodland Garden, which is at its best in the spring, you'll find daffodils and one of the best displays of crocus vernus in the country.
For further information CLICK HERE
Mottisfont, Hampshire
Location : near Romsey, Hampshire, SO51 0LP
Mottisfont's riverside gardens burst into life in spring, with delightful displays of daffodils and narcissi. Thousands of mixed, naturalising bulbs provide delicious splashes of cream and yellow colour across the grounds, with drifts gathering beneath Mottisfont's giant veteran trees.
For further information CLICK HERE
Newark Park Daffodils
Location : Newark Park, Ozleworth, Wotton-under-Edge, Gloucestershire, GL12 7PZ
The appearance of golden daffodils is often the first sign of spring, and you'll find them blooming around the garden at Newark Park. Brush away the cobwebs and take a refreshing walk down to the lakeside garden where you can see banks of these bright blooms.
For further information CLICK HERE
Osterley Park and House, London
Location : Jersey Road, Isleworth, Middlesex, TW7 4RB (sat nav TW7 4RD)
Spring has sprung at the 'palace of palaces' as a haze of yellow dominates Osterley's garden in the form of daffodils, a sure sign spring has finally arrived at this Georgian country estate.
For further information CLICK HERE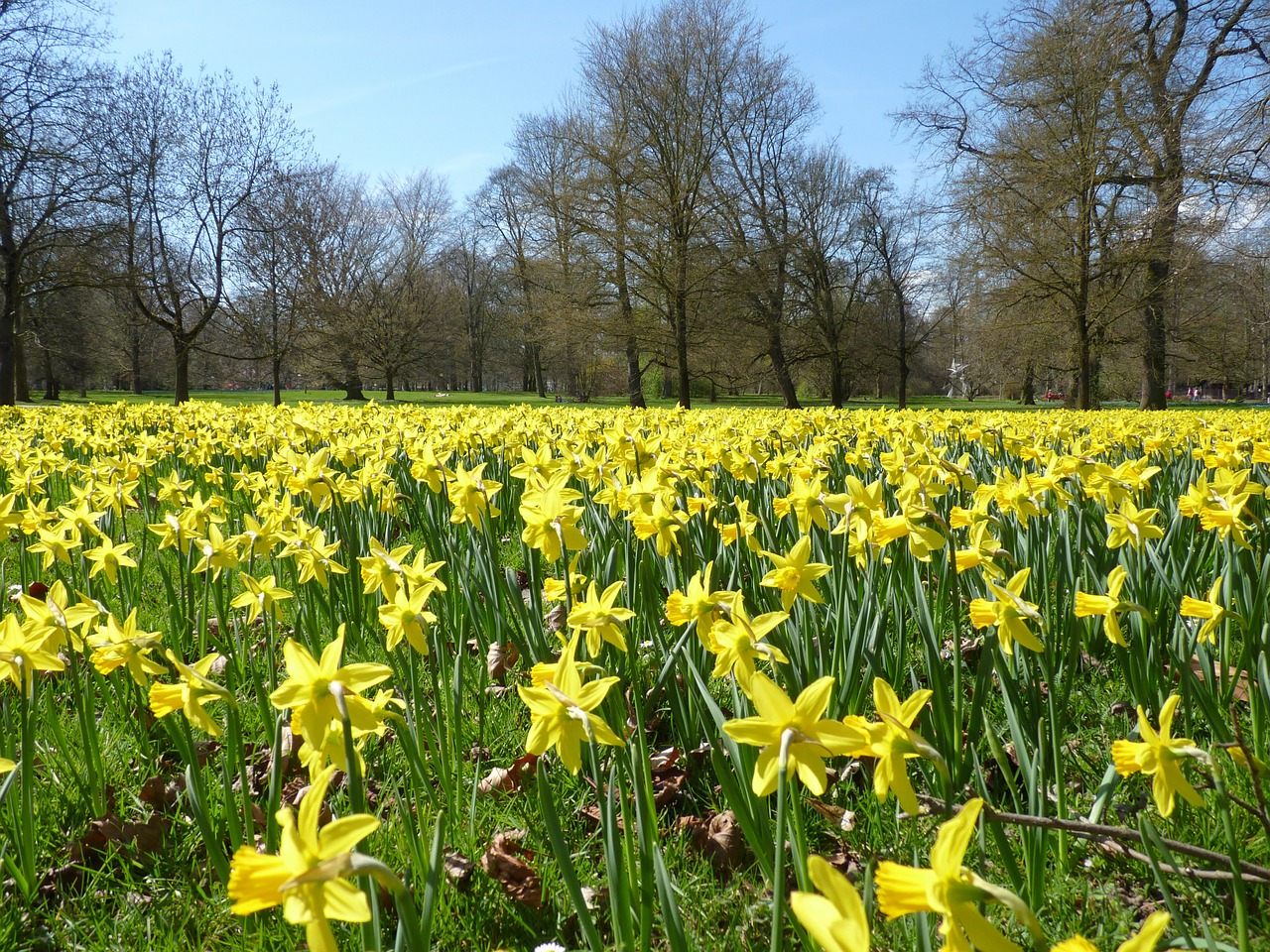 Oxburgh Hall
Location : Oxborough, near Swaffham, Norfolk, PE33 9PS
Springtime at Oxburgh Hall sees the gardens and woodland erupt with drifts of daffodils. Will the winter temperatures we've been experiencing mean that they're early or late this year? Look out for them carpeting the woodland floor, as well as along the river banks.
For further information CLICK HERE
Polesden Lacey, Surrey
Location : Great Bookham, near Dorking, Surrey, RH5 6BD
Visit Polesden Lacey this spring to see bright daffodils bloom in swathes of yellow, cream and orange against the backdrop of this Edwardian country retreat.
Typically blooming between late February and early May, you can catch them all across the garden here, with the West Lawn, New Lime Walk and Theatre Lawn being particular highlights this year.
For further information CLICK HERE
Prior Park Daffodils
Location : Ralph Allen Drive, Bath, Somerset, BA2 5AH
Enjoy this wonderful time of year at Prior Park as swathes of daffodils appear across the Summerhouse Glade.
For further information CLICK HERE
Saltram Daffodils
Location : Plympton, Plymouth, Devon, PL7 1UH
We have over 90 different varieties of daffodil growing in the garden here at Saltram. They are all historic varieties, some of which are quite rare today and many were bred locally thanks to a tradition of daffodil breeding in Devon and Cornwall.
In 2018 we thinned out the trees surrounding Lime Avenue which were giving the daffodils too much shade, so now they are starting to make a comeback. We have also planted 4000 more bulbs, all historic varieties, into the gaps along the avenue to create a beautiful sea of yellow this spring.
For further information CLICK HERE
Seaton Delaval Hall, Northumberland
Location : The Avenue, Seaton Sluice, Northumberland, NE26 4QR
A wander through the gardens and grounds at Seaton Delaval Hall in March and April is sure to put a spring in your step. Enjoy the woodland walk meandering through historic displays of Van Sion daffodils – thought to have been planted at the same time as the hall was built – and beautiful bluebells in the arboretum.
For further information CLICK HERE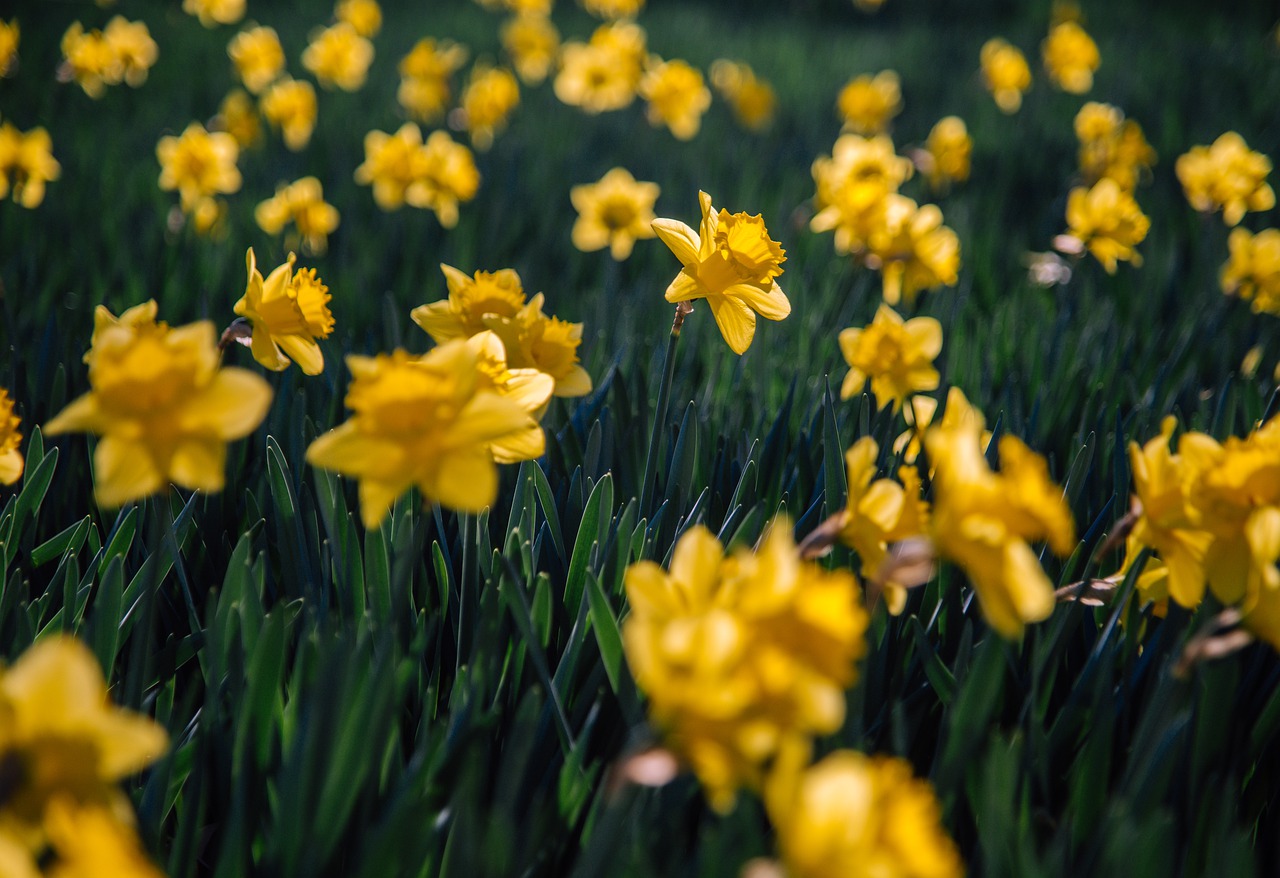 Shugborough
Location : Milford, near Stafford, Staffordshire, ST17 0UP
Head down to the riverside at Shugborough to see the fine crowds of daffodils nodding in the Spring sunshine.
For further information CLICK HERE
Sizergh, Cumbria
Location : Sizergh, near Kendal, Cumbria, LA8 8DZ
The seven-acre garden at Sizergh is full of variety and colour in spring. Look out for original Lakeland daffodils carpeting the wildflower bank and Snakeshead Fritillaria nodding to the cherry blossom above in the Small Orchard. You'll also find dwarf daffodils and blue Muscari nestling among the limestone in the rock garden.
For further information CLICK HERE
Snowshill Daffodils
Location : Snowshill, near Broadway, Gloucestershire, WR12 7JU
The garden at Snowshill is an extension of the manor with mystery at its heart. Designed by Charles Wade and his friend, prominent Arts and Crafts architect Mackay Hugh Baillie Scott, in 1920, it is a garden for all seasons. In spring, wander through the orchard where drifts of bright daffodils nod their cheery heads in the breeze.
For further information CLICK HERE
Speke Hall, Merseyside
Location : The Walk, Speke, Liverpool, L24 1XD
Speke Hall, Merseyside When the daffodils on the main drive at Speke Hall are out, then spring has definitely arrived. Thousands of pale and golden flowers appear and the garden team plant three different varieties of daffodils to keep the display blooming for as long as possible.
For further information CLICK HERE
Stourhead Daffodils
Location : near Mere, Wiltshire, BA12 6QD
The yellow trumpets of daffodils brighten any spring day as they appear in swathes throughout the garden and wider estate. The daffodils at Stourhead are mostly a wild variety which are much rarer these days and an important source of nectar of early pollinators.
For further information CLICK HERE
Sutton Hoo
Location : Tranmer House, Sutton Hoo, Woodbridge, Suffolk, IP12 3DJ
Home to one of the most important archaeological discoveries of all time, Sutton Hoo is a great place for an afternoon ramble. But if you stroll around the estate during the spring, you'll also witness a mass of daffodils.
For further information CLICK HERE
Trerice Daffodils
Location : Kestle Mill, near Newquay, Cornwall, TR8 4PG
A wide variety of narcissi brighten a cloudy day at Trerice, from the early flowering Welsh native 'Tenby' to the late 'Pheasant's Eye' spring wouldn't be the same without them. Daffodils can be found throughout the garden at Trerice but key places are surrounding the knot garden and through the woodland paths to the back of the barn
For further information CLICK HERE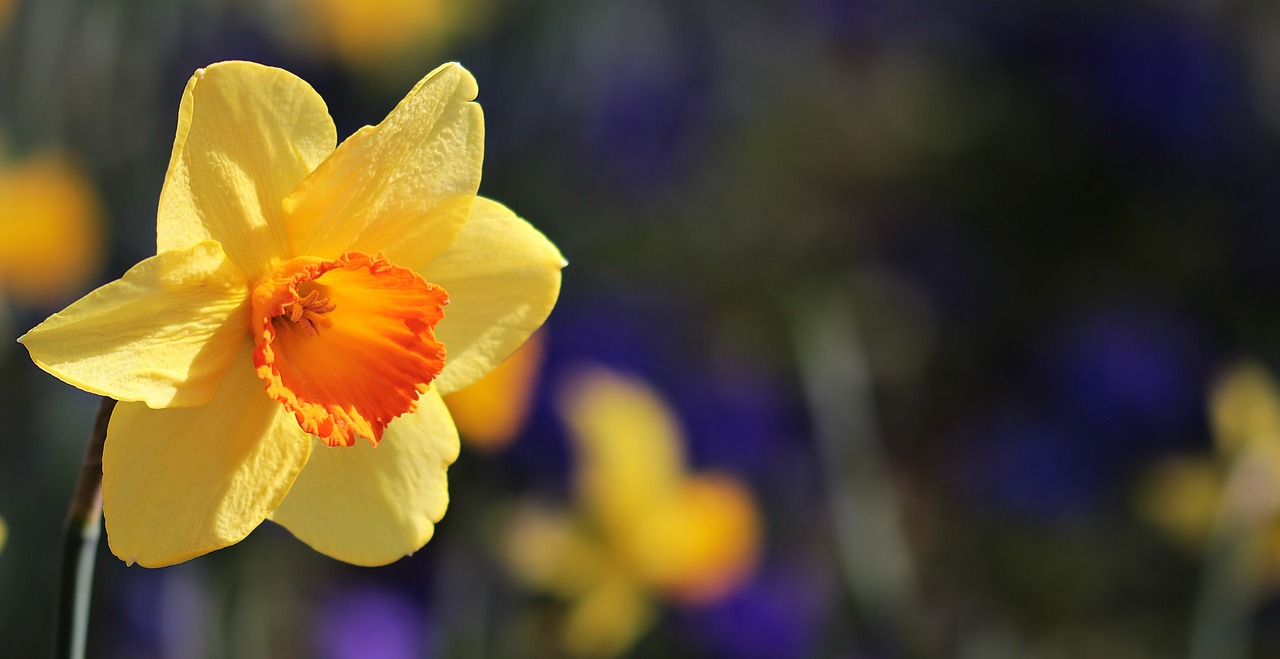 Tyntesfield Daffodils
Location : Wraxall, Bristol, North Somerset, BS48 1NX
There's nothing like an outing to Tyntesfield to put a spring in your step. Daffodils are just one of many spring blooms brightening the garden this season.
For further information CLICK HERE
Ullswater Daffodils
Location : Lake District
William and Dorothy Wordsworth were regular visitors to Ullswater, and it was a springtime visit to Glencoyne Bay on the western shores of Ullswater that inspired William to write one of his most famous poems Daffodils.
For further information CLICK HERE
Wimpole Estate
Location : Arrington, Royston, Cambridgeshire, SG8 0BW
Wimpole is another great place to enjoy daffodils in East Anglia. You'll discover amazing carpets of them in the pleasure grounds, creating stunning vistas in lots of directions. As you walk down the plant hunter's walk, you'll also be able to enjoy rare and exotic plants from around the world.
For further information CLICK HERE
Pick Your Own Daffodils
All of the places listed are walks through daffodil areas, but if you are wanting to PYO Daffodils, there are a few places offering just that experience.
Glebe Farm PYO Daffodils
Location : Lower Brailes, Banbury, Oxfordshire, OX15 5HR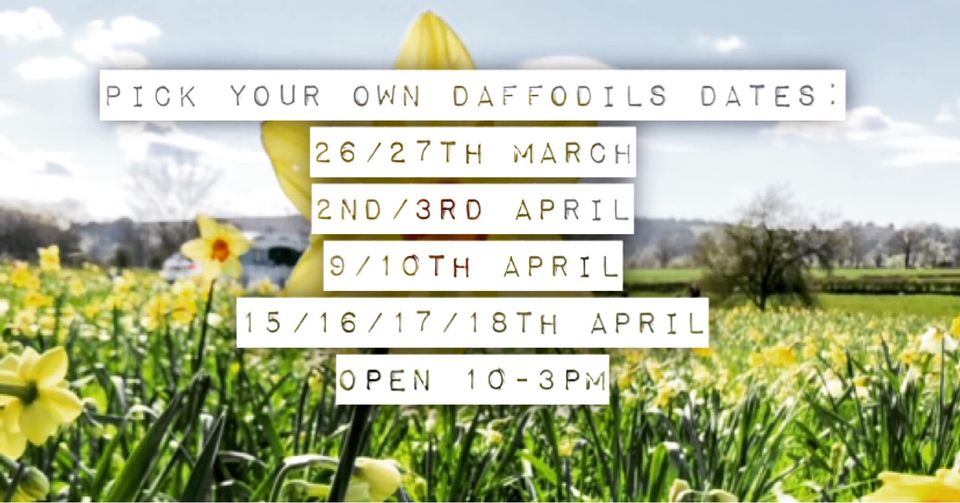 PICK YOUR OWN DAFFODILS!! We will be open on the following dates: (see photo) These dates are subject to change due to weather/flower conditions so please check our page before you visit. It will be updated regularly. No need to book for this PYO. Dogs on leads allowed. Picnics welcome. It is a beautiful daffodil field off the beaten track.
For further information CLICK HERE
Priory Farm Estate Daffodil Picking
Location : Priory Farm, Sandy Lane, Nutfield, RH1 4EJ

This Mother's Day, hop aboard our tractor and trailer and take a ride to our beautiful daffodil fields to pick your very own bunch of beautiful spring blooms
. Our first batch of tickets are now live for Mother's Day weekend only. Please note further slots may become available, subject to availability of flowers. Join our waiting list through the link below to be the first to hear if further dates and tickets become available.
For further information CLICK HERE
THE DAFFODILS by William Wordsworth
I wandered lonely as a cloud
That floats on high o'er vales and hills,
When all at once I saw a crowd,
A host, of golden daffodils;
Beside the lake, beneath the trees,
Fluttering and dancing in the breeze.
Continuous as the stars that shine
And twinkle on the milky way,
They stretched in never-ending line
Along the margin of a bay:
Ten thousand saw I at a glance,
Tossing their heads in sprightly dance.
The waves beside them danced; but they
Out-did the sparkling waves in glee:
A poet could not but be gay,
In such a jocund company:
I gazed – and gazed – but little thought
What wealth the show to me had brought:
For oft, when on my couch I lie
In vacant or in pensive mood,
They flash upon that inward eye
Which is the bliss of solitude;
And then my heart with pleasure fills,
And dances with the daffodils.